Perth City Skyline Pedal MOST POPULAR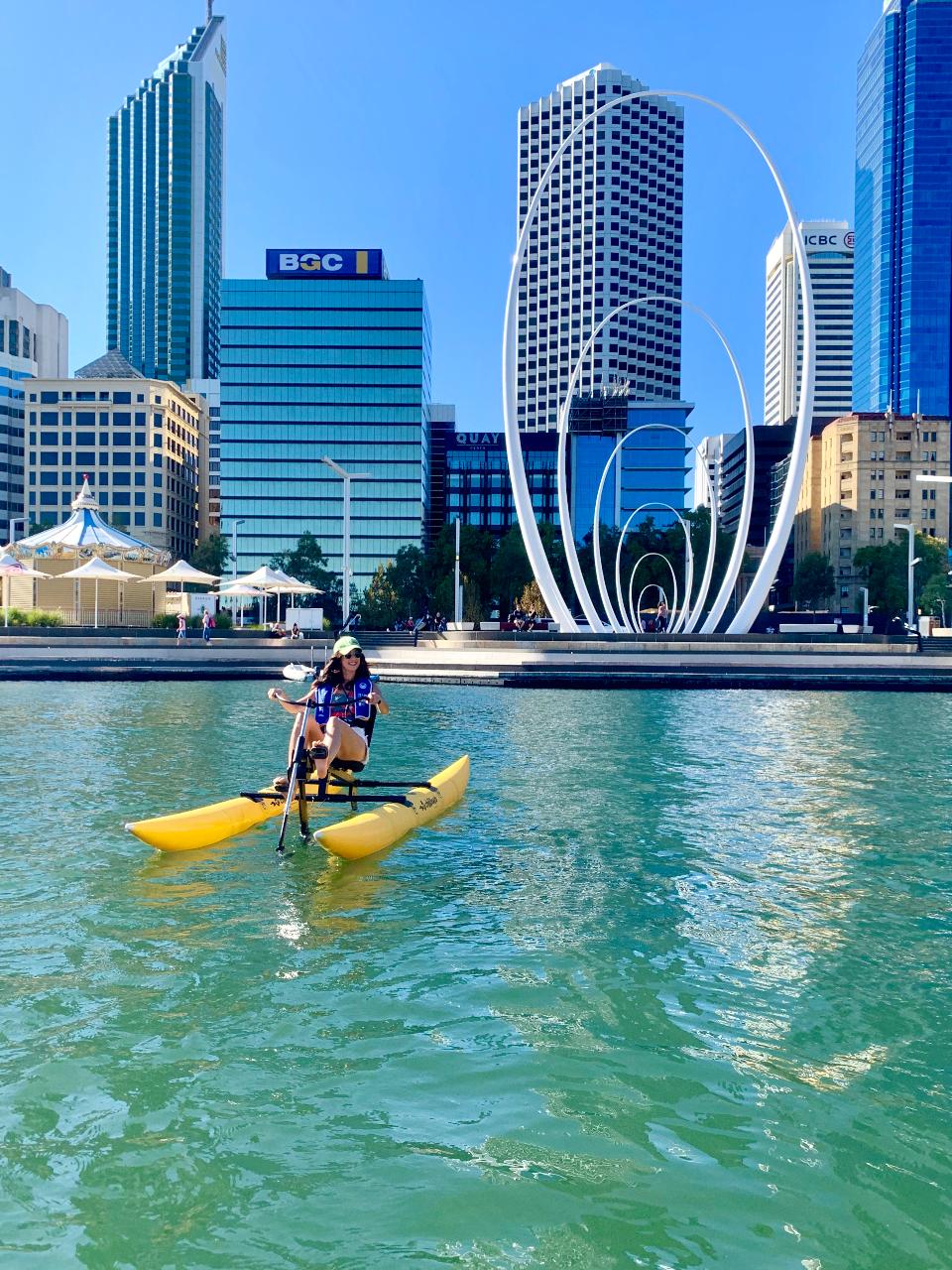 Duration: 60 Minutes (approx.)
Location: South Perth, WA
Product code: PPV0X0
CYCLE ON THE SWAN RIVER IN THE CITY!
See the City like you've never seen it before! The Perth City Skyline Pedal is the Perth Waterbike Co's most popular ride! Departing from South Perth next to the Narrows Bridge, you will glide along the City foreshore and right into Elizabeth Quay for a spectacular view of the City and some iconic photo opportunities.
Sit back, relax and take in the stunning views of the City Skyline South Perth and Kings Park, as you glide along the Swan on a waterbike. A new and unique perspective and and exciting new water adventure for most ages and abilities.

You'll see that Perth is best viewed from the water and that riding a waterbike gives you an awesome vantage point to enjoy the city skyline.
Guided Waterbike rides are small, exclusive groups, with a private guide. Personalised attention makes for a truly unique water adventure.
We have access to some amazing spots on City waters and for that reason all our rides are guided. Our guide is well skilled at being as discreet or interactive as you like.
Safe, stable and incredibly easy to use, waterbikes are a whole lot of fun. Cruising at a leisurely pace, there's plenty of time to take in the
incredible views.
BEFORE WE HEAD OFF …
Meet 10 minutes before your scheduled tour time. at Point Belches on the Swan river foreshore, right next to the Narrows Bridge
Our friendly guides will welcome you and other fellow Waterbiekrs
We will brief you on all safety matters, fit you with a PFD lifejacket and get you used to the Waterbike before we head off on our adventure.
PARTICIPATION REQUIREMENTS
Waterbike tours require particpants to be 120cm tall (normally 8 + years old).
Children under 15 are to be accompanied by adult.
Children under 18 who are unaccompanied need to have signed consent from adult.
Maximum weight of participant – 120kg.
All participants will be required to sign a waiver and indicate required medical information
All safety instructions are delivered in English only. Participants will need to have a sufficient level of English to be able to understand safety instructions
Participants must not be under the influence of drugs or alcohol
WHAT TO WEAR
Hat & sunscreen, comfortable clothing, board shorts or active wear recommended.
WHAT TO BRING
A water bottle and sense of adventure.
We suggest leaving valuables in your motor vehicle or at home.
Your guide is skilled at capturing all the good photo opportunities so you wont need your phone however we can provide you with a waterproof phone case should you wish to take your own photos.


WATERBIKE TOURS INCLUDE
Experienced qualified guide
Full safety briefing and instructions
Personal Floatation Device
Loads of photos taken by your guide
An amazing, fun & eco friendly experience

Waterproof mobile phone holder so with lanyard so that you can take photos along the way with your mobile phone. (these are currently not able to be loaned for COVID reasons however can be purchased as an extra)
WATERBIKE FEATURES
Adjustable handlebars and seat position adjustable for different leg lengths
Suitable for kids - ages 8and up (or 120cm and above, generally. 6 year olds have participated after individual
assessment) For younger children please consider the Express Pedal as an alternative
Very stable due to the catamaran structure and low centre of gravity
The waterbikes are beautifully designed and move along with minimal effort making this an acitivity suitable
for most ages and fitness levels.


WEATHER CONDITIONS
All tours are subject to weather and may need to be cancelled at short notice due to adverse wind, swell or other weather conditions. Cancellation is at the discretion of Perth Waterbike Co, whose management makes an expert assessment based on information from numerous weather apps. (BOM alone is not always reliable)
There are numerous options for routes depending on weather conditions, so depending on wind conditions the route may change.
As weather conditions can change quickly communication regarding the cancellation of tours could be as late as the morning of your tour

so please keep an eye on your emails and text messages.
If a tour is cancelled due to weather an credit voucher will be issued which can be used for up to 6 months from the original booking date. If a reschedule is not possible then a full refund will be given.

FAQ
Do I need any experience to join the tour?
The City Skyline experience is best enjoyed by guests 10 years and above. Our experienced tour guides will give you a comprehensive Waterbike and safety induction before commencing the tour. Additionally they will be with you every step of the way and will assist you if needed. If your child is younger than 10 us confident, able, and tall enough to reach the pedals we may be able to accommodate. Children as young as 6 have particpated on this tour.
Do I need to know how to swim to join your tour?
It is not necessary that you know how to swim to join our tour. You will be wearing a life jacket for the duration of the tour.
Do I need to be fit to join your tour?
Our tours are conducted at a leisurely pace to accommodate for most fitness levels. There are plenty of stops along the way and time to enjoy the scenery and learn about the Swan River and surrounding areas.
Can my children join the Waterbike tour?
The minimum height required for the Seabikes is 120cm which means most children from the age of 8 can participate.(some as young as 6, please email if unsure) This tour is over an hour in duration so please take that into consideration when making a decision about your childs participation
What if the weather is not right on the day I booked my tour?
We will keep the weather monitored at all times and may wait until the last minute (the morning of your booking) to make weather decisions. Cancellation due to weather is at Perth Waterbike Co's discretion, not that of the client. The weather is very closely monitored in the lead up to your booking using a number of different weather apps, for the most accurate assessment (BOM is not always reliable) Your safety and the quality of your experience are our utmost priority. In the case we do need to cancel a tour due to weather conditions (only in the case of very high winds, swell or a storm or other circumstances that deem it unsafe) we will offer rescheduling options, and if unsuitable we will offer a full refund. Light rain is not considered a reason to cancel, we recommend wearing a spray jacket in these conditions.
How fast do the Waterbikes go?
The Waterbikes can go up to 15 km/hr however we like to take the tour at a leisurely pace to accommodate all participants. There is always an opportunity to cycle back and for the for those wanting a bit more of a workout!
How stable are the Waterbikes?
The catamaran configuration provides huge stability and it is virtually impossible for you to fall into the water. Unlike Stand Up Paddle boards and normal bicycles, the Waterbike does not require balance.
Where can I find my tours photos?
We will send you your photos via whatsapp within 48 hours of your waterbike experience
What do I need to bring to the tour?
You don't need to bring much other than a sense of adventure and the bare essentials. Hat, sunscreen, sunglasses, and a water bottle. A life jacket will be provided for all participants. A dry bag is provided to put your belongings in. Dry bags are limited in size so keep
items to a minimum. Your guide will take photos and videos of you on the tour, so relax and enjoy the experience.
Do I wear shoes?
Bare feet is best as your feet do get wet when you get on and off the waterbikes (your feet only get wet, it is otherwise a dry experience)
Can I pay for my tour with cash or EFTPOS on the spot?
Book your Waterbike experience online to secure your spot. We can take payment on the spot however availability is not guaranteed.
What if I need to cancel my booking, can I get a refund?


Cancellation of a booking may be requested by emailing hello@perthwaterbikeco.com.au not less than 7 days (168 hours) prior to the booking date. All cancellations will incur a $12 admin fee which will be deducted from the patrons refund.
Reschedules may be requested in writing to hello@perthwaterbikeco.com.au not less than 3 days (72 hours) prior to the booking date. A credit voucher to the value of purchase will be issued allowing reschedule for up to 6 months from the cancellation date.
Bookings made after the 20th March 2020 (known risk of COVID related impacts) will remain subject to Perth Waterbike Co's standard cancellation terms (above) By proceeding to book you are accepting all risks associated with your ability to make this date and agree to proceed under these terms. At all times, Perth Waterbike Co is required to follow any mandatory orders imposed by government regarding COVID-19 including, if applicable, the vaccination status of employees and/or customers.
Regular updates regarding staff and customer requirements, and how this may impact your booking, will be published in our "COVID-19 Notice" found here: https://www.perthwaterbikeco.com.au/covid-19-notice/


For bookings made via a third party agent/online booking site, please contact the provider (where payment was made) to discuss options. Online booking sites and travel agents set their own policies with regard to cancellations. Additional fees may apply